There is no doubt that the new JK Nirvana (http://jacksonkayak.com/blog/kayak/nirvana/) is getting a lot of hype right now.  It has been one of the most highly anticipated whitewater kayaks in 2017, since it's announcement by JK back at Outdoor Retailer last year.  A beautiful Abyss colored 2017 JK Nirvana joined the Jackson Action Wagon fleet in late June and I can't seem to keep it in the fleet long enough for me to give it a try…  I've had a waiting list of paddlers wanting to get a hold of the demo to check out what all the rave is about in this new design!  Give me a shout if you want to give this new design a GO!!
The JAW Nirvana has already seen a many runs by several different folks and I'm getting several great reviews on this boat.  Here are a couple of good non-biased reviews from non-sponsored paddlers I have received after a JAW demo:
Shaun Mullins' Quick review of the new Jackson Kayaks Nirvana (medium)
Wesley R. Bradley was kind enough to let me be the first to demo the new Nirvana from the Jackson Action Wagon fleet. Below is my unprofessional kayaker thoughts about this exciting boat.
Pros:
It has really fast hull speed for a "short" boat. During the initial lake paddle, I was stunned at how fast it gets up to speed from a dead stop. Three strokes and you're pretty much flying.
The speed downriver is unhindered by features that usually try to stall out other boats. Tremendous amount of lift from the bow/hull design at speed keeps you on top and mostly dry through all but the biggest waves and holes.
When the bow does go deep, it resurfaces very fast and stable – no unusual kicks to one side.
Really holds a line at speed – the faster you go, the more it seems to lock in. This should be great for downriver racing, as you will be less likely to get spun out or thrown off line as you encounter eddy lines and cross currents.
Turns easy though and holds a carve line with precision. Taking inside strokes on edge at speed results in controlled carving turns with a radius that is easily adjusted with just the slightest change in edging.
Surfs great! I was able to catch and surf fast green waves that I haven't been able to catch in any other short boat. Plenty of rocker and bow lift kept the bow from pearling most of the time, even though this thing is 9′ long.
Boofing was nothing short of glorious thanks to that rocker profile, the ability to put the boat's trajectory exactly on the line you want, and the speed.
The hull design lands a bit harder than other creek boats I've paddled, so that is something to consider on drops. This also means that the boat kind of has a "slappy" ride through rapids, although that is not really an issue.
Definitely one of the easiest boats to roll that I have experienced. I guess the narrow width and low deck height combine to make it a super easy roller. I know reviewers often say this, but this particular boat really surprised me.
One other surprising characteristic was that the boat was very stable through rapids and on features. Even though it is a "short race boat", I never once felt like I was paddling an edgy, tippy specialty boat. It is very forgiving. Primary stability is good with the mostly flat hull profile, and secondary stability is good as well.
Cons:
On fast eddy out maneuvers, it has a great snappy turn-in, but about half way through the fast leaning carve, I noticed the wide, flat stern lift and the boat tended to want to straighten out. This resulted in blowing through a few smaller eddys. If I came in slower, this behavior was not an issue. But, at speed, it did this almost every time. I really had to pull a hard bow draw at the right instant to counter this and lock in to smaller eddys. But even then, compared to "standard" creek boats I've paddled, it was not as consistent in locking into position in small eddys. For me, this is a big deal for its creekability on really tight technical creeks like the ones in the Smokies where must make eddys are often micro-sized.
The Nirvana has an almost flat planing hull. This is a pro for high volume and most river running. But, it's a con in my book for southeast creeking. This one is subjective I suppose, but in my experience, I much prefer displacement hull creekers. If I lived in the northwest or Cali, my opinion would be different. However, on the low volume, rock filled creeks in the southeast, I prefer a nice, smooth displacement hull with soft rounded edges (i.e. Jefe Grande, Newmad, Shiva).
Fit for me (6'2″ with 34″ inseam and size 14 shoes), was not ideal. The knee pockets are widely spaced and very low. I moved the seat around every way possible and could not get all the pressure off of the back of my thigh where it contacts the highest portion of the front of the seat. Also, foot room is barely adequate for me. I wore Astral's Hi-Yak low profile booties and still had to jam my feet in there somewhat. Within 15 minutes, my legs were starting to get sleepy. I can sit in my other boats all day with no problem.
Verdict:
This boat will be a huge success for those wanting a short racing kayak, or a high flow speed creeking/river running machine. Dane and crew have already proven it's ability in multiple events this year. It is also a killer boat for zipping around on big water and runs that don't involve a lot of rock contact. Team Jackson has a winner on their hands for the right paddler on the right river.
But, for me at least, it won't replace my Jefe Grande as a creek boat. Mainly because of overall comfort (leg position/footroom) and the Jefe's ability to lock in to the most micro of eddys with relative ease, and to use rocks as just another way to get where you want to go with no surprises. And, the Jefe lands softer, boofs just as good, and handles steep boulder filled creeks with lots of rock contact with ease.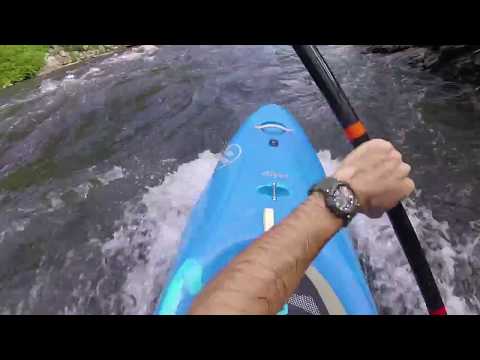 Brian Vermillion's Report on how the Jackson Kayak #JKNirvana compares to the Pyranha Kayaks #9r
On Saturday I had the chance to get a lap on the Upper Ocoee in Jackson's newest creek/race boat, the Nirvana. I am a class 4/5 weekend boater, and for the last 2 years my go to creek boat has been the Pyranha 9r. So, the Nirvana seemed like a no brainer to test out.
The first thing I noticed about the Nirvana was the knee position…it's low and wide. This is very different than what I am use to with my 9r, which sits with much higher and slightly narrower knee position. The Nirvana is 26.375" wide, while the 9r is 25.2" wide, thats only a 1.175" difference in width. Once on the water the knee position felt much better, and I didn't really notice the extra width of the Jackson boat.
Much like the 9r, the Nirvana felt fast! Just a few strokes and the boat was up to full speed. The boat stayed at speed even through waves and eddy lines. Both boats are 8' 11" long which is key to both boats speed. The 9r does feel a bit sportier and nimbler while zig zagging through the waves and rocks.
At Alien Boof the Nirvana lived up the hype and boofed like a champ. You can build so much speed before the lip that the boat just flies off the drop. Again, like my 9r the speed you build before the drop was carried out of the drop with ease. Both boats sterns load up well coming off drops and push you out like a watermelon seed.
Once in the Olympic section the Nirvana felt at home. It was stable and held a line with no issues. The 9r feels just as much at home in the big water as the Nirvana did. The extreme bow rocker of the 9r felt like it stayed on top of the water better than the Nirvana when driving through big waves.
When it comes down to it the Pyranha 9r and the Jackson Nirvana they felt very much the same. The boats preformed similar on both big water and on a few creek moves. The knee position and outfitting of the Jackson vs the Pyranha are the biggest differences for me between the 2 boats. Picking which boat is for you will be up to preference more than performance. But for me the higher knee position and narrower boat win out…..the Pyranha 9r will still be my go to boat.