2012 USNWC / WORLDKAYAK PRO-AM for FIRST DESCENTS
26 September 2012
No Comment
The 2012 USNWC / WorldKayak Pro-AM was unleashed on Saturday. This was the 3rd annual Pro Am providing an awesome opportunity for some up and coming young rippers and folks looking to figure this playboating thing out to learn from some of the best and raise money for First Descents all at the same time. The event raised $4,000 for First Descents, a great organization committed to curing young adults of the emotional effects of cancer and empowering them to regain control of their lives by experiencing whitewater kayaking and other challenging adventure sports in a safe, fun and supportive environment. Pro kayakers from all over the boating community came out, teaming up with amateur paddlers and competing in a Hometown Throwdown. Team Paddlers from Dagger, Jackson, Pyranha, and Wavesport were all in Well Hole at the USNWC.
The format for the event was simple……….. have FUN. We got the teams rounded up and sorted out around 11am, before noon a record for any kayaking event. All the teams got a chance to paddle together and get some tips from the team Pros and plan their strategies. For some returning Pros, they were out to win and get the bragging rights for the year. We had boaters ranging in skill level from having only playboated kinda to some who could spin and cartwheel. There were boaters of all ages and skill levels paddling in every wave and hole the park has to offer. Corey Volt was back as MC and offered colorful commentary explaining the tricks being done to all of the spectators gathered, Pat Keller also spent some time on the mic and making sure that the competitors knew that splatting rafts was a scoring trick. The raft splat was the trick of the day it got many cheers for the day. The teams competed in heats of two with each boater getting two 45 second rides. The competition was awesome as the powershade got as much applause from the crowd as monster loops and tricky Woo's. The Pros were coaching their team members throughout their rides; I can't say enough how awesome the overall vibe was. The Pros definitely brought it, they did not hold back and really brought out the moves, they even busted out some magic throwing down the first Harry Potter in a competition.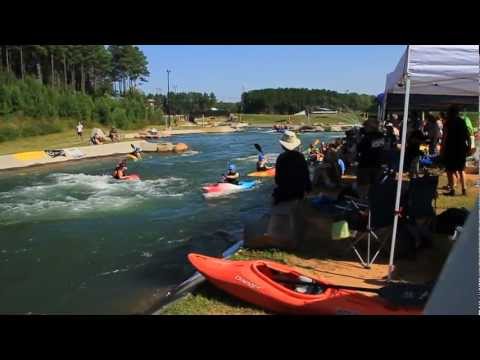 After the team competition a fierce boater cross was battled out on the comp channel. There were a few causalities as the rafts took out a few of the boaters. After all was said and done the winner's were Team Keller.
The overall standings were:
1st Place Mike Patterson, Scott, Matt
2nd Place Chris Gragtmans, Kenya, and Gus
3rd Place Matt Anger, Ethan, and Devon
4th Place Courtney Kerrin and Leanne
5th Place Emily Jackson, Finley, and Arianna
6th Place Chris Wing, Reid, and Robbie
7th Place Brad Caldwell, Michael, Brendan
8th Place Corey Volt, Trey, Jonathan
9th Place Pat Keller, Makjah, Cameron
10th Place Ty Caldwell, Wes, Jack
11th Place Chris Singletary, Jeremy, Gabe
12th Place Clay Lucas, Riley, Brian
13th Place Rowan Stuart and Sierra
14th Place Dewey and Rob
Time for Thanks! First and foremost Thanks to the USNWC for working with us all year and for helping us raise $4,000 for First Descents. To Mr. Jere Rudsill of Newstar Marketing who has believed in us since the beginning and provided the awesome t-shirts every year for this event and to Design 13 for keeping the tshirt designs cool and fresh. All of our WorldKayak sponsors who make these events possible and for helping us promote our sport, Jackson Kayak, Shred Ready, Smith Optics, Mountain Khakis, Chaco, and Kokatat along with our local sponsors Wakawai, Little River Roasting, H2O Dreams, New Star Marketing and the USNWC. Our wonderful volunteers. Big thanks our silent auction sponsors Jackson Kayak, Pryhana Kayaks, Wakawai, Kokotat, Dagger, Revo, and Bomber Gear for donation items. The silent auction was new this year and a big success helping us to reach our goal of $4,000. And finally Thanks to all the Pros for coming out and making this little event bigger and bigger each year so that we can do more for a wonderful organization like First Descents, you guys donating your time allows this event to happen and the effect on the boating community is huge, just take a look at the pics!
Speaking of pics, THANK YOU to all of our photographers of the day who have supplied us with amazing photos, PhotoLogic, Brad Bodin and PJ Ingram. And once again special thanks to Sam Fullbright and Pilot Collective Media for once again hooking us up with a highlight video of the event.
Good Lines!