Without a paddle  Senza una pagaia
(English here/italiano in giu') I wanted to experience the threat of a big volume river with my hand paddles. I found that I could perform any stroke, but I lacked power. This meant that I had to think further ahead, and better anticipate the on-coming rapids. I had to exploit the flow of the water, because I had less power to punch holes. It was a useful learning experience, and surprisingly enjoyable.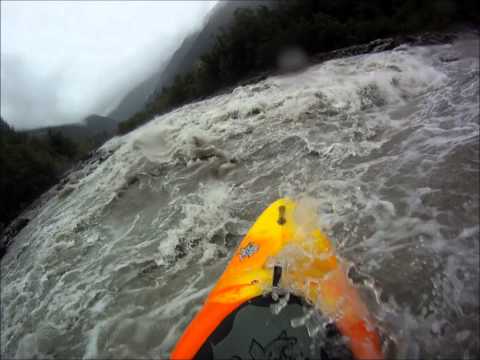 (Italiano) Ho voluto provare la minaccia di un fiume di volume con le mie pagaie a mano. Ho scoperto che potevo fare qualsiasi pagaiata, ma senza potenza. Questo mi ha costretto a pensare piu' in avanti e anticipare le rapide seguenti. Dovevo sfruttare il flusso dell'acqua perche' avevo meno forza per sfondare i buchi. E' stata un'esperienza molto utile e sorprendentemente divertente.