The internal voice  La voce interna
(English here/Italiano in giu') I believe that everyone who is passionate about the outdoors develops an internal voice, which tells us when to be cautious, when to be brave, when to back down, and when to go for it. When soloing, it's even more important to listen to that voice. On this trip, my internal voice told me to slow down. Perhaps I wasn't prepared for such a continuous river so early in the season. My boofs were weak, and I narrowly missed a tree. I can return another day. The video tells the story.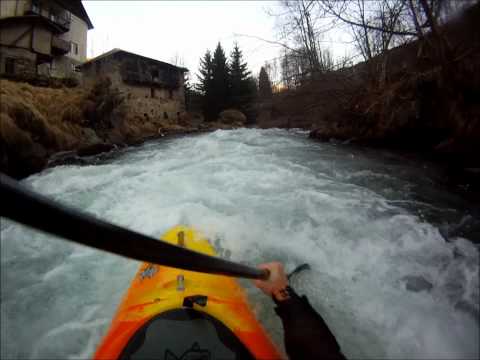 (Italiano) Credo che tutti gli appassionati delle montagne sviluppino una voce interna, che ci dice quando essere prudenti, quando essere coraggiosi, quando rinunciare, e quando andare avanti. Quando si scende in solitaria, e' anche piu importante ascoltare quella voce. Durante questa discesa, la mia voce interna mi ha detto rallentare. Forse non ero preparato per un fiume talemente continuo cosi presto nella stagione. I miei boof erano deboli, e ho mancato un albero per poco. Posso tornare un altro giorno. Il filmato racconta la storia.